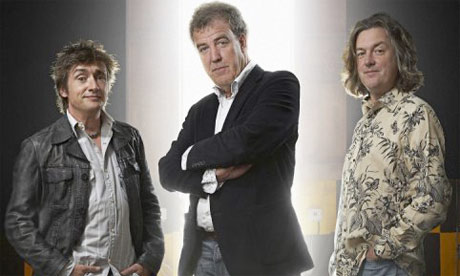 Yeahh.. Diz 3 freakin maniacs r back! Who da hell is diz tri0? Band b0y? A gr0up of 'recycled' model? Nahh..
They r TOP GEAR presenters.. The show about automobile.. 0ne of my fav tv sh0w.. sh0w bout the truth behind mercedes, aston martin, bmw and all cars.. with harsh words n c0mments pure fr0m the heart.. this sh0w revealed a to z about cars.. its all ab0ut man n machines.. very interestin' show.. arguing.. smashin cars.. n thing that u ll never xpected will amaze u in this sh0w.. dont 4get to watch them every saturday at 12am.. ntv7..





Jeremy.. The 'man' of this sh0w... Crazy n wicked man..





Richard Hammond.. Unpredictable guy.. Seri0usly injured himself in a car test sessi0n..
click here to read bout hammond crashed




James may.. The 'lady' of this show.. Soft spoken.. Always d0 thing by the rules.. 0nce clocked a bugatti at 350km/h..


And the mysterious 'stig'